Myerstown Church of the Brethren Welcomes You!
Through vision, faith, and action the congregation of the Myerstown Church of the Brethren works to share the Word of God. As believers, we all should have a vision through our faith and as a congregation strive to put our faith in action within the Church, the community, and the world. We invite you to visit us if you ever have an opportunity. We will always use the pulpit to preach God's Word in the light that His Word is unchangeable. We pray that we can all experience God together through the Power of His Spirit! What we believe…
Please join us for worship! 51 W. Stoever Ave. Myerstown, PA 17067 717.866.5517
Sunday School – 9:00 AM
Worship Service – 10:00 AM
"Goliath Must Fall: Winning the Battle Against Your Giants"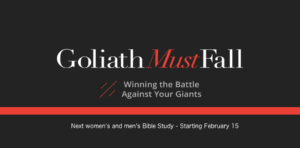 Starting Thursday, February 15 we will study in Goliath Must Fall, story of David and Goliath to reveal how we must slay the giants of fear, rejection, complacency, anxiety, anger, and addiction in our lives.
The New Church App - Free